Cuban Gravel Crisis Ride Review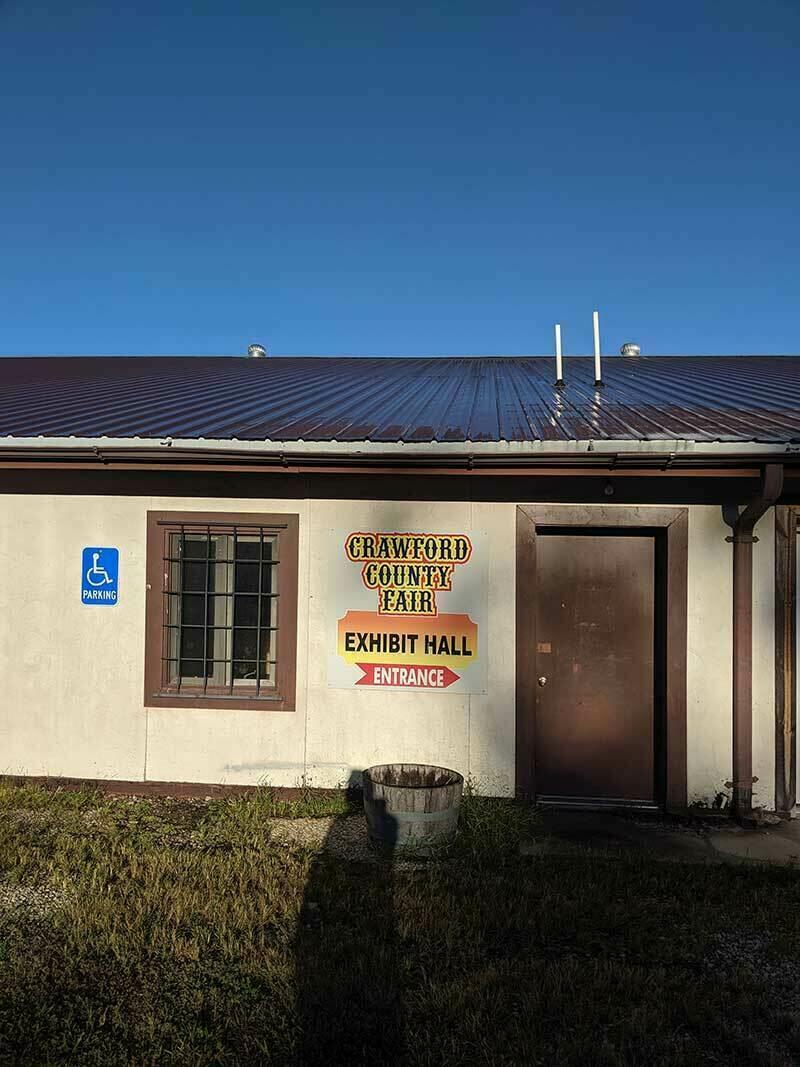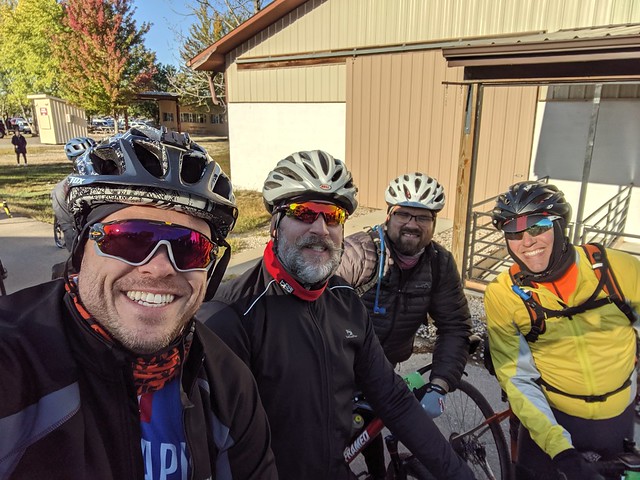 October 2019 brought gravel weather to the Midwest, and the first big event of the season was the Cuban Gravel Crisis, in Cuba, Missouri on October 12th. This year the ride started in Hood Park, which is where the Crawford County fair is held. I realized once we got there that I had been there, almost 20 years ago, shooting photos at a concert for a local band from Cuba called N2Versatle.
The CGC offered 3 ride lengths, 100/50/25, with the 100 starting at 7am and the 50/25 starting at 9am. I met the posse at CrossFit Wildwood and we headed down together in the Tahoe. This ride brought together the DK100 (Steve and Lybarger) crew and added in the mustached wonder of Wagner, we were team 3 Chrises and a Steve. Cuba was just over an hour away from the gym, so it was an easy drive down 44, a road so familiar from my many trips to/from Rolla for school years ago (I met n2Versatle as a DJ at the college radio station back in the day).
We knew going into the ride that it was going to be a cold one, with start time forecasts showing 32-34 degrees. What we were not prepared for was how cold that would be! While waiting in line for the check in we quickly were brought up to speed on what Winter is like, because we had forgotten…. Missouri skipped Fall for a weekend, though now, two weeks later the weather was finally back into fall mode, today however it is going to get up towards 70. At check in we received our packages, which contained a bib number and timing chip. I mistakenly removed my timing chip, assuming that I needed to put it on my helmet, before realizing they had stabled the chip to the number so that we didn't need to mount it externally.
We headed to the only warm place on site, the restroom, and prepped before getting the bikes ready. I've really taken to utilizing the Chamois Butter this year. With that, in combination with my new Specialized Power Expert saddle from Trailhead earlier this year, my riding has never been more comfortable! Bike prep was pretty straight forward, get your bottles together, computer turned on, air in the tires.
The real prep was clothing! I was wearing my Pearl Izumi thermal full length bib, wool socks, and a long sleeve Hincapie jersey. On my head I wore a PI head band to cover my ears, and threw on a Maxxis neck gaiter I got at Dirty Kanza this year. On my hands I wore a pair of warmer Craft gloves, and had those inserted into my bar mitts I had installed the night before on the Niner RLT. The Bar Mitts, holy cow, I can't recommend them enough. After about 15 miles I had to take my gloves off and go with a much thinner pair, because the combo of the Craft gloves and bar mitts were causing my hands to be downright hot.
Caution on the bar mitts though. They can be cumbersome, and get in the way. They limit your grip options on a drop bar bike, leaving you unable to access the drops, but in cold weather, they are totally worth it.
The ride started by heading out of hood park on an old gravel road following the train tracks that runs along side of Historic Route 66. The start felt a little unorganized, it was hard to hear the announcers due to the size of the crowd and distance from the PA, but once on the road things started to spread out. The road was marked with painted arrows, which worked out well for the most part, with only a couple of minor problems for people who either couldn't get their route isnto their bike computer (looking at you Wagner) or people who missed the arrows when marked poorly (also looking at you Wagner).
For the most part, the three Chrises rode in the near vicinity of each other all day, while Steve was a little further back riding his mountain bike with MTB tires mounted, instead of his gravel tires. We all stopped at the rest stop around mile 15 in Steeleville, and then again around mile 25 when Wagner hit a gravel pothole that helped to alleviate the air from the tire on his ride. He quickly popped the tube off of the rim of the bike, to discover that the sealant used on his tubeless setup had turned into Loctite for the nut holding his valve stem in. He was going to pop a tube in and keep riding. We should have simply tried filling it up with air, before popping the bead on the tire.
We spent the next 28 minutes trying to figure out how to get the nut off the valve stem. We asked every rider who went by if they had a pair of pliers, no one did. No one had a Leatherman, we were stuck. Mike Weiss from Bike Shark Bicycle Company stopped with an old car racing friend of mine, Bryan. Mike and Bryan both attempted to get the nut off, to no avail as well. Until finally a rider stopped, he had acquired a new tool the prior week, and while it wasn't exactly pliers, it was close enough to pliers that Mike was able to get the nut free. Wagner threw a tube in the tire, pumped it back up and we were on our way again.
Not long after the tire change, we county road E, which lead us down towards Cave Rd, which was going to be a quite the climb, followed by a jaunt through Onandaga Cave State Park, another location I visited 20 years ago (to the month) for the wedding of a pair of friends. These two climbs were tough, but they had to be done if we wanted to finish the ride, so we pushed through and rode on. Shortly after Onandaga, Wagner pulled away from myself and Lybarger as he is always much stronger on the hills than I am.
Lybarger and I knew there was a rest stop coming up near Leasburg, but we weren't quite sure how far away it was. We ended up stopping about 1/4 mile beforehand to take a break and refuel, only to find the stop shortly there after and take another break. We almost missed the turn for the stop as the only marking I saw was on the left, on the inside of the left hand turn, thankfully my navigation was working. Unfortunately for Wagner, he missed this turn and end up with an extra 4 miles before the rest stop outside of Leasburg.
After the rest stop, I was feeling extra lethargic and Lybarger headed off ahead of me. We both knew we were close, within the last 12 or 13 miles. Those are always the worst, the final slog, when the body wants you to stop, but you keep telling it that you are almost done and can rest later. Coming into the finish, much later than initially planned, both due to the 30 minute mechanical, and more so due to the 5k feet of climbing that the route had, was a welcome experience. The crowds of my last couple of bigger rides (DK and Pedal The Cause) were non-existent, but the finish was just as nice. I came through and immediately rode back to the Tahoe to get off the bike.
Lybarger came over, with food in hand and pointed me towards a tent and food truck parked not too far away. I walked over to those to see what sustenance I could find. I found some pork sliders for $2 a pop, I got 2, and a soda from the food truck next door. Not the biggest meal, but enough to hold me over as I waited for Wagner and Steve to finish their rides.
When they were finished we quickly loaded up and hit the road back to St. Louis. I had to get home to some family things, so we couldn't stick around, and didn't even have time to stop anywhere on the way home to grab some food.
Overall this event was great. Beautiful route, HOLY HILLS there was a lot of elevation. Definitely a ride to look forward to again in 2020!