2020 Katy Trail Shakedown Ride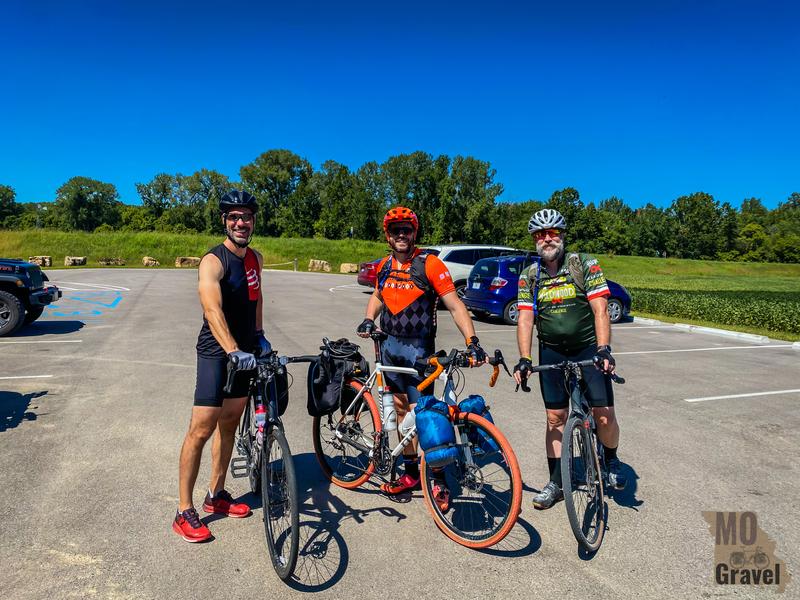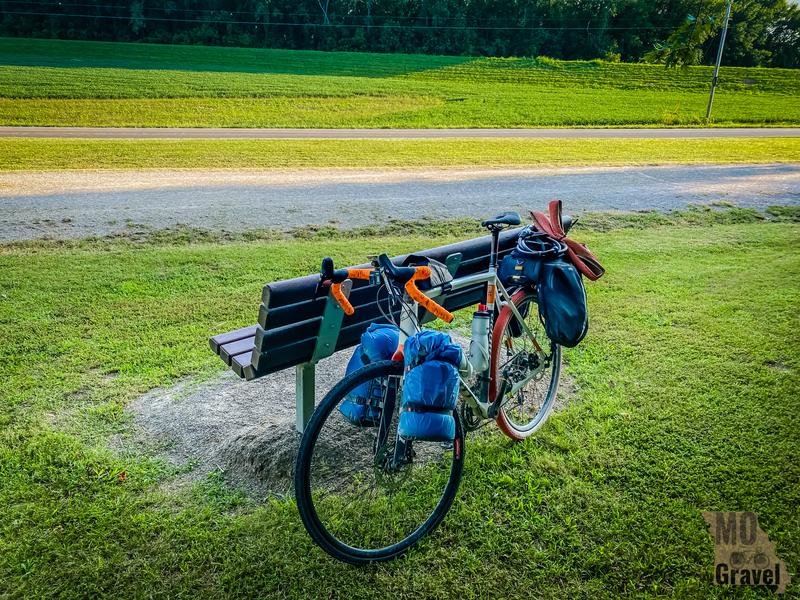 My grand vision of building the Bicycle Tips brand/website in 2020 were apparently dashed with Covid. That hasn't stopped the riding, though there has been less than planned, and no organized rides after The Mid South in March. Early in the summer we started the idea of riding the Katy Trail again. Once again planning for the end of September/early October as a few of us had done in 2017. This time we started planning that we would do it fully self supported, no one meeting us each evening carrying our gear, we would carry our own gear this trip. In order to make sure that was possible, we planned a shakedown ride over Labor Day weekend.
We would start at the LeCave Memorial Trailhead in Wildwood/Chesterfield, ride ~4 miles to the Katy Trail, and then head west towards Portland, MO. Why Portland? I was looking for somewhere to camp, along with a place that had somewhere to get food. Portland has the River's Edge RV Park & Campground, as well as Holzhauser's Bar & Grill. The plan was 70 miles out, camp, and ride back the same 70 miles home the next morning. We wanted to test out our equipment, make sure that we carried the proper gear, and hopefully not to much of it. I also wanted to try sleeping in a hammock as I had never done that before. I always sleep on my stomach in some weird contorted position, knee raised to the side, figuring a hammock wouldn't work for that I needed to make sure I could actually get some sleep.
Luigi and I started at noon on Saturday 9/5. Wagner joined us for the start of the ride, but was not going all the way and staying the night in Portland. It would have been ideal to start at our usual 6am time, it was a hot afternoon on Saturday, but we really didn't want to ride 6-7 hours and then sit around Portland all afternoon. We talked our wives and kids into meeting us in Portland for dinner on Saturday night, so they planned to bring some food and water just in case we didn't find options at Holzhauser's.
The Katy Trail was busy, as it has been in 2020, everyone is out, and it is great to see so much traffic both on foot and bicycle. We made our way quickly through Defiance and on towards Augusta when I noticed what appeared to be an odd coloring in my front tire on my Niner RLT, I thought maybe it had a leak and the sealant was discolored with dirt. We stopped in Augusta, primarily so I could go "#2", I'm a big believer in pooping when you ride, I'm a pretty regular guy, and if I don't poop I get to be pretty miserable while riding, so any time I can, I will. After doing my business I took a look at the front tire and notice it was horribly misshapen.
I went over to the KickstandKaty snack bar to see if they had any replacement tires, as I had intended to carry a spare with me, but failed to pack it. Luck would have it, they did have a tire, but only a 700/32, which would have to do. She cautioned me that they were expensive, and then told me it was $30, to which I thought was cheap. She explained that she buys a couple from Big Shark just to have on hand, and only charges what she pays. Later when I got home I checked and the tire runs $12 online, but to be honest, that $30 saved the trip, more on that later.
I was running 700/43 Panaracer Gravelkings, having actually JUST replaced the rear tire the night before because it had failed a few times on recent rides on the Katy and I didn't want to have to worry about it leaking (with a tube). So I purchased the 32 width tire and coiled it up on the back of the bike, hoping that I could make it to Portland on the Panaracer and have my wife bring me another spare tire from home, and have the 32 JUST IN CASE.
Well, low and behold, we didn't make it 4 miles out of Augusta before my tire started spraying sealant. I stopped, put the hole towards the top and let it seal back up. It seemed to hold, and have enough air remaining, so we continued on. Not 5 minutes later there was sealant spraying everywhere and the tire quickly lost the air it so needed to roll down the crushed limestone trail of the Katy. We stopped in the shade and performed surgery to swap out the tubeless Panaracer Gravel King with a Continental Ride Tour. The tire was noticeable narrower than the Gravelking, but you know what? It held air, which was more than those expensive Panaracers could say. I simply haven't had good experiences with the Gravelkings. They might look cool, orange against my orange and white bike, but while riding the Katy trail in either late June or early July I had the rear tear (I won't say it was a cut) in the middle of the tread, in two places, and I had to tube it and throw a barrier between the tube and tire. I don't feel that the tire held up like the cost should. I got less than 1.2k miles on those tires, with a majority of those being on the Katy trail, a crushed limestone rails to trails path.
From there, the rest of the day was mostly uneventful, except for water. We rode through Dutzow where Wagner departed and headed back to civilization. At this trailhead there was an aid station for a running group, I believe Run DRC, we would see these stations for the next hour or more as we went along the trail, it looked like they had runners doing either 50k and 50 mile runs. In Marthasville we stopped to take a break, I filled up the tire with the Katy Trail tools floor pump mounted at the station. Luigi rode down to the ballfields and picked up 2 bottles of water, one for each of us, and we headed on our way west. We made it to Treloar, and kept riding, thinking that water wouldn't be any problem to find. Well, little did we realize at the time, Treloar to McKittrick is one of the longest, if not the longest, gap on the trail without stations. By the time we finally made it to McKittrick, just north of Hermann, MO we were running low on water, and I was most definitely running low on energy. The heat of the day was really taking it out of me.
I was having trouble keeping my pace above 11mph, sometimes dipping below 10, most of the afternoon I had a heart rate of 160, which to me is higher than I would like for a long ride. In McKittrick I stopped, took my shoes off to let me feet breathe a bit and laid on the bench at the station. We asked another rider who was getting into his car where the closest water might be, he told us that there was a gas station a mile down the road, south of the trail. We decided that we could make it on to Rhineland where there should be water, instead of taking a mile detour. Once we were back on the trail, before passing through the tunnel at McKittrick we could actually see the gas station, it was nowhere near a mile off trail, so we took a left on the connector to the road to Hermann and stopped at the BP station to fill up. I grabbed 3 1L bottles of water and a Gatorade. Filling up our bottles and my pack with water, we had 1L bottle left and got back on the trail.
We passed through Rhineland, and I saw the restaurant we would be eating breakfast at the next morning, The Corner. We got to Bluffton and stopped at a bench so I could take on some more fuel. I told Luigi we might see our wives driving by on their way to Portland to meet us with our kids. As we were sitting there, my wife's blue Kia goes driving by with Luigi's wife sitting in the front seat, wearing a bright yellow shirt, making her easy to pick out. We waved and then met them at the crossing where the trail crosses 94 just west of Bluffton to say hello.
We pulled into Portland just after 6:30pm, making it about 6.5 hours on the trail, with stops and repairs along the way. The minivan was in the trailhead lot, but the families were nowhere to be found, they had made their way down to the river to entertain themselves while they waited for us. Luigi and I got to work setting up camp. I had previously setup my hammock, but I hadn't setup the bug screen or the rain cover before, so that slowed me down a bit. We picked our spots, I learned that you shouldn't pick a spot with a dirt pile right outside your hammock, as in the dark you're going to kick it many times and get dirt on your feet and flip flops. Pretty sure I have any bites on the top of one of my feet from those dirt piles. Once camp was setup the family showed back up and we started figuring out what to do for dinner.
We went over to Holzhauser's Bar & Grill to see what options they had, pretty standard grill food, burgers, grilled cheese, fries, tater tots, maybe a chicken sandwich too? I ended up ordering tater tots and fries, I think I might have ordered two servings of tots and 1 serving of fries, neither of which got finished. The kids enjoyed their burgers. I ended up eating the two nut butter sandwiches I had made earlier in the day and had Natalie bring in case I couldn't find any vegan options.
While we were waiting for our orders from Holzhauser's we were outside and notice an off-road cart pull up to the campground, I figured that was Melody, the owner, so we ran down to get checked in with her and pay our $10 for the campsite for the night. She also made sure the bathroom door was unlocked and told us there is water via a spigot on the back of the bathroom. After dinner when the families left, Luigi and I took turns taking showers and making final prep for bed, locking up the bikes, putting any valuables that we wanted to secure into the hammocks with us.
Around 930pm we hopped in our individual hammocks and tried to see if we could sleep. There was an RV or two parked in the campground, and music coming from one of them as the owners and guests hung out drinking around a campfire. I worried that they would be up all night playing music, but they ended up turning in before 10pm, and camp was quiet except for two other bike packers who came from Columbia, MO earlier in the day. They were sitting around a fire in their camp site talking till after 10 some time. I eventually fell asleep only to be woken at 1030 by another group of bike packers trying to get settled in for the night, having pulled in sometime after we got into the hammocks. They also came in from Columbia, having left Columbia at 9am. That's a long day, 12 hours, ~65 miles.
The hammock worked well for me, I was glad I had the bug screen, were were surrounded by trees, and bugs everywhere. At one point while getting ready for bed I saw a spider with a body the size of a chickpea walking right under my hammock, it was at this point that I thought about crushing it, and then thousands of little baby spiders running about, so I flicked it away from my camp and thanked myself for setting up the bug net. I slept on a sleeping pad and sleeping bag in the hammock. The pad helped actually keep the hammock "open" above me, (under the bug net), which I think made things more comfortable for me. It was a somewhat warm evening, I never got cool enough to need the sleeping bag that night. I imagine, hope, it will be cooler in early October, I prefer being chilly and warming up under covers when I sleep.
I slept okay that night, waking up occasionally, but not really struggling to go back to sleep. The alarm at 5:45am came far too early. We hopped out of our hammocks and started working to get camp broken back down. It was nearly an hour later before we got back on the trail, Luigi was waiting for me. One problem with overpacking, it takes longer to load back up in the mornings. We took off eastbound from Portland and headed towards Rhineland to get to The Corner for breakfast. It was Sunday morning, and they opened at 7:30am, we arrived there just 2 or 3 minutes after opening.
Breakfast was actually pretty good. I didn't know what to expect going in, but the place looks almost brand new. They had a breakfast buffet going, but nothing besides fruit on the buffet was vegan. I started by ordering hash browns and wheat toast, but before the waitress left, I asked if they had oatmeal and swapped out the hash browns for a bowl of oatmeal and a bowl of fruit. Once again Luigi was waiting on me to finish, kind of the story of the trip.
From there, it was pedal down to get back home before the heat of the day set in. We didn't quite make it before it got hot, but we got to at least Marthasville before I feel like I started slowing down again. Ultimately we made it back to Chesterfield just after 1pm, so our trip time was just under 6:15, including breaks and breakfast. Luigi ended up pulling me most of the way, both days actually. That guy is a machine, he just gets on his bike and rides. He never struggles, never looks to be working too hard, just chugs along. I tried my best to stay on his rear tire when I could, because it helped me to save on my energy and try to keep the pace better, but often times I would fall off and he would slow down until I caught back up.
We felt as though we were into the wind both days, going west, it the wind was coming from the west, going east the wind was coming from the east. Our actual moving time on Saturday I think started out faster, but by the time we got half way I was drained and had a hard time. Sunday, we started out a little slower, but kept an overall better pace. My heart rate stayed below 140 for most of the ride, and if you follow Strava Suffer scores, the difference between two days was 582 on Saturday to 266 on Sunday. Sunday we had an average moving MPH of 13.8, while it was 13.3 on Saturday. My average heart rate on Saturday was 150bpm, Sunday was 135bpm. We did 1 additional mile on Saturday with the trek to the gas station. The moving time between the two days only differed by about 16 minutes, take out that extra mile on Saturday and we spent just about the same time on the trails moving.
Lessons learned from the trip
So it was a shake down ride, what did we learn from it?
Hammock camping works.
Hammond packs too much stuff.
Luigi is a great guy to ride with as he will pull you the whole way.
Carry less snacks/fuel.
Buy more water.
Panaracer Gravelking tires are shit.
Don't forget things (gopro memory card, spare tire)
I carried way too many snacks and things for eating along the way. I don't think that I consumed too much, but I definitely carried a lot. I need to be careful about what I pack and take on the bigger trip in October. We will plan better with water in October. I need to do some research on where we can source water along the way. All of the fountains on the Katy Trail are turned off, but I hear that spigots may be on, so I need to check a few out before October to see if that's true. During our October ride, we will work to take on water any opportunity we can, to avoid being without.
I tried to pack the essentials for my GoPro with three different trips to my basement office to get everything I needed, two trips specifically to get the memory card. Somehow I still managed to leave without the memory card. I turned the GoPro on as we set out from LeCave and was immediately beeped at telling me that I didn't have a memory card in it. When we got to Portland I took the GoPro off to give to my wife to take home. It now had a cracked lens. So I rode with the camera on the front of the bike, but didn't get to use it, and broke it.
Other things learned: I haven't ridden as much as I wanted to this year, I have some serious concerns about my fitness for doing the Katy Trail in 3 days in 2020. We did it in 2017, but we didn't carry our camping gear, or food along the way. I'm thinking about actually changing the ride plan to do a half day on the 1st of October, starting in Clinton, instead of starting in Clinton on Friday morning. We'll see how the rest of the gang takes to that idea. I was likely dehydrated after the ride. I came home, had a soda, and not near enough water before going to bed. Until mid day on Monday I had to watch myself standing up to fast, starting to get dizzy. After making sure to consume a lot of water today I think that went away.
Overall the shakedown ride proved a success. I have already transferred the gear that was in my saddlebags to my NEW gravel bags from Ortlieb, transferring everything from the Topeak setup into these new bags which are just saddlebags, and not a third center bag. They should hold up better, and allow me some flexibility to strap something down in the middle of the rack if I wish as well. I have new Maxxis tires that I will get mounted to the Niner RLT this week, and I need to make some adjustments to the shifters as I ran out of the ability to shift the big ring on Sunday as we got into Chesterfield valley.
I'll be working on planning the route based on things learned during this ride, making adjustments for food, water and hammock space availability.
If you're on the Katy Trail October 1st through 4th, keep an eye out for my #MOGravel sticker, I will have some extras with me if anyone wants any.
Photo Gallery